T Bank revises lending rates
Passang, Thimphu

Sep 15, 2016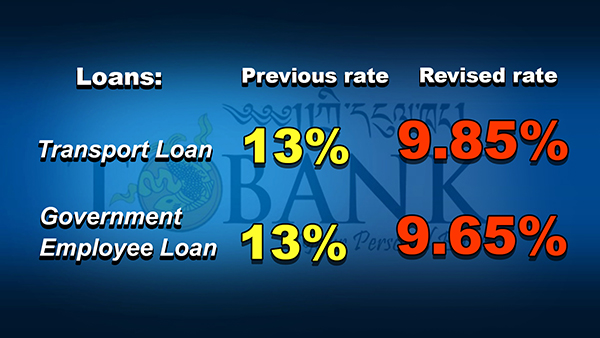 T Bank Limited reduced lending rates by an average of 2.04 percent with effect today.
The interest rate for one of the most sought-after loans, the Transport loan has come down to 9.85 percent from 13.
Similarly, Government Employee Loan has also come down to 9.65 percent from 13 percent.
The revised rates are also applicable for the loans already availed provided the client fulfils the certain conditions of the Bank.
Borrowers have a choice to reduce their monthly loan installment with the new revised interest rates or to bring down the time-frame of the payment.
"The bank has prepared to make it convenient for the client… in both the cases the bank is flexible depending on the clients convenient," said T Bank's Managing Director, Pema Tshering.
The circulation from the central bank says all financial institutions in the country are to come up with lending interest rates based on the minimum lending rate of 6.5 percemt.
Bank of Bhutan has also revised its interest rates.
Other banks are expected to come up with revised interest rates beginning next month.
The new interest rate policy is expected to generate more competition among the financial institutions.