GoI releases cheque worth Nu 425 M
Aug 19, 2016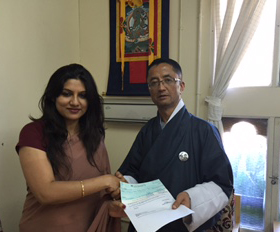 The Indian Embassy's First Secretary, Neetu M. Bhagotia handed over a cheque worth Nu 425 M, under Programme Grant, to Gross National Happiness Commission's Secretary, Thinley Namgyel, today.
A press release from GHNC said Indian Embassy has committed Nu 8.5 B for Programme Grant under 11th five year plan.
Of the total, Nu 5.5 B has been released.
The release also said Programme Grant is budgetary support to the Bhutan's government and the fund is utilized based on the government's priorities.
GoI released the funds on quarterly basis.