HRH Gyaltshab inaugurates newly built buildings of Kunzangling Central School
Cheten Dupchu, Trashi Yangste

May 23, 2016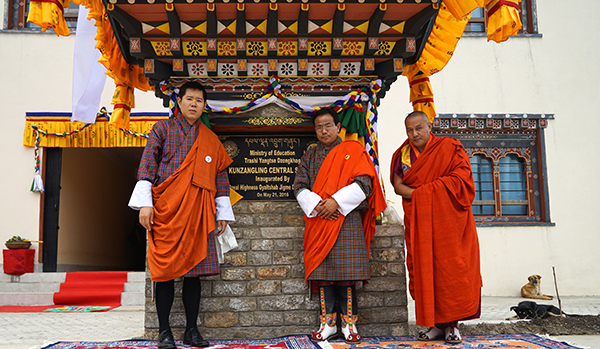 His Royal Highness, Gyaltshab Jigme Dorji Wangchuck graced the inauguration of the newly built buildings of Kunzangling Central School in Tongmajangsa Gewog in Trashi Yangtse.
His Royal Highness the Gyaltshab was accompanied by Her Royal Highness, Ashi Yeatso Lhamo.
The inauguration was held coinciding with the auspicious occasion of Buddha's Parinirvana on Saturday.
His Royal Highness the Gyaltshab and Her Royal Highness were ushered to the school through a traditional Chipdrel procession.
Following the marchang ceremony, His Royal Highness graced Trashi Rabney and Tashi Ngasoel ceremony.
The dzongkhag and Rabdey offered Tashi Dzegay to His Royal Highness the Gyaltshab.
This was followed by recitation of Zhabten for His Majesty the King.
His Royal Highness the Gyaltshab unveiled the inaugural plaque to mark the formal inauguration of the new buildings.
His Royal Highness interacted with the local people, who offered Tshogchhang, and granted Tokha to thousands of people gathered at the school.
Constructed at a cost of Nu 145.79 M, the new structures of the school include two 120-bedded hostels, a three-storied academic building, multipurpose hall, and staff quarters.
The construction which began in 2011 was funded by the Government of India.
The school with 418 students has two separate campuses. The existing old site of the school caters to students from class PP to six. The new campus caters to students studying from class seven to nine.
Later in the evening, His Royal Highness offered prayers and Chhoemey Tongchhoed in Gomkora for the wellbeing of His Majesty the King and the country.