Team Paro wins women's Khuru tournament for second time
Sonam Penjor, Thimphu

Mar 24, 2016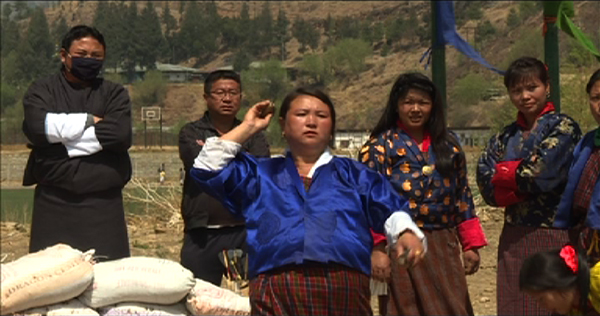 Team Paro won the 2nd women's open Khuru tournament for the second consecutive year in the capital. The finals were played yesterday.
Khuru is the only indigenous sports played by women at national level. And the game has become popular among woman in recent years.
Over a hundred people gathered in Changbangdu indigenous sports ground to witness the women's Khuru final. The final match was played between Paro and Dagana teams. With this win, team Paro is wining the tournament for the second consecutive year. The players played with great enthusiasm thrilling the audience.
"During our times, I did not see women playing Khuru but now time has changed" Kado, one of the spectators said. Another spectator Dechen Dema says time has changed now. "There is no difference between men and women. They are equal now. It is interesting therefore I came a long way to watch it".
According to officials from Bhutan Indigenous Games and Sports Association, the women's tournament for women is aimed at promoting indigenous sports in the country.
Choki Lhamo, one of the players said, the tournament has helped to popularise the sport among women. "It has been three years since government initiated the Khuru tournament for women. Earlier we never played it".
Eight teams took part in the tournament this year. Swiss Agency for Development and Cooperation funded the tournament.