Chamkharchhu tributary diversion poses threat to centuries-old Lhakhang and nearby settlement
Cheten Dupchu, Bumthang

Feb 7, 2016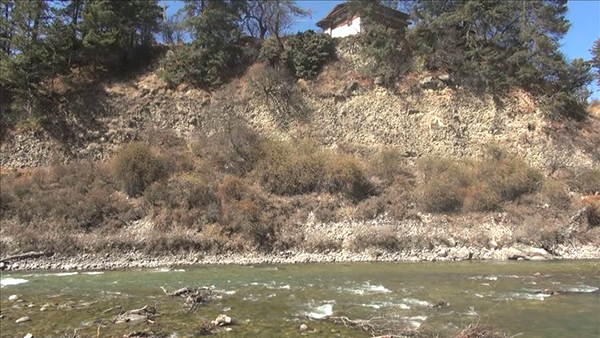 Ever since two tributaries of Chamkharchhu in Bumthang were merged in 2011, the historic Chakhar Lhakhang and nearby dwellings have become vulnerable to flooding. Without a protection wall, the locals fear there are chances of the river breaking its banks in summer and wrecking havoc.
A tributary flowing near Bumthang Domestic Airport was diverted to the one that flows near the centuries-old Chakhar Lhakhang.
Chakhar Lhakhang's owner, Tenzin said the river poses a huge threat to the Lhakhang.
"Since the diversion, vast land below the Lhakhang has been washed away. The river has also washed away the trails. If the trees get swept away too, the Lhakhang won't be spared, since its roots have tunneled into the Lhakhang."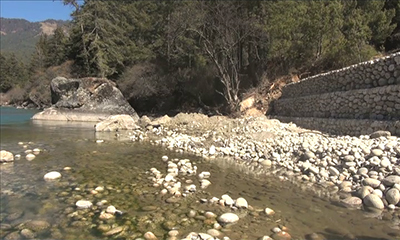 Chakhar Lhakhang is believed to be palace of Gyalpo Sindhu Raja. It was rebuilt in the 14th century by Tertoen Dorji Lingpa after it was destroyed.
Also, the 13 households by the river also live in constant fear. Since the diversion, Chamkharchhu has started edging closer to the settlement, every year.
"The civil aviation has constructed wall only on their side," said one of the residents, Pema Tshoki.
Another resident, Ugyen Dorji said he lost a portion of his paddy field to the river.
They have put up a request for a protection wall to the gewog and dzongkhag.
The Dzongkhag Engineer, Yeshey Dorji said since Chakhar Lhakhang is located in critical area, river protection works will be carried this year.
Of the Nu 40 M they have received, a half of it will be used to construct the river protection wall.
Other households along the river near Chakhar Lhakhang will be also assessed.
Yeshey Dorji said they will also further explore funds for such protection works.