Bhutan Higher Secondary Education Examination results declared
Jan 26, 2016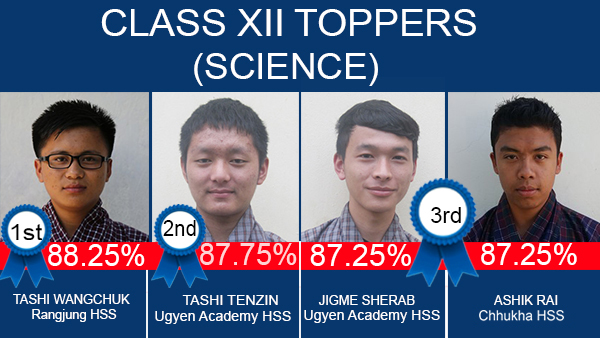 Results for the Bhutan Higher Secondary Education Examination were declared, today. Tashi Wangchuk from Rangjung Higher Secondary School, with 88.25 percent, topped the Science Stream.
Tashi Tenzin from Ugyen Academy, with 87.75 percent came second and third place went to Ashik Rai from Chhukha Higher Secondary School and Jigme Sherab from Ugyen Academy with 87.25 percent.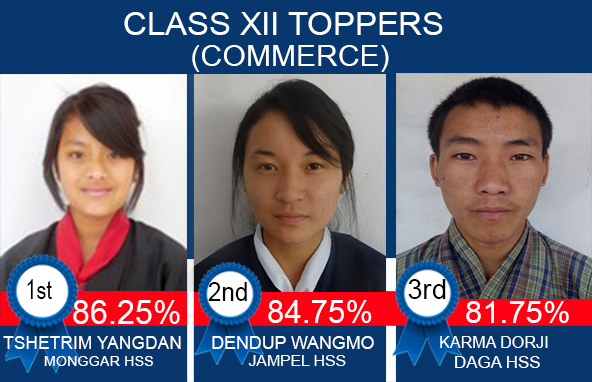 Tshetrim Yangdan from Monggar Higher Secondary School topped commerce stream with 86.25 percent. Dendup Wangmo from Jampel HSS, with 84.75 percent, came in second place and Karma Dorji from Daga HSS, with 81.75 percent, took the third place.
In Arts category, the first place went to Yeshey Lham from Ugyen Academy, with 83.25 percent. Sangay Tenzin, from Damphu HSS, took the second place with 80.25 percent.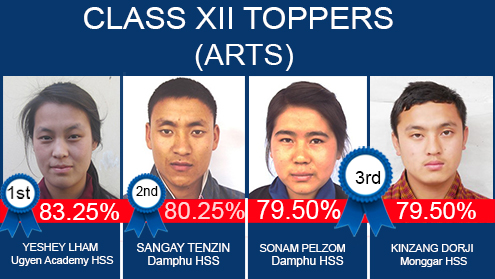 Sonam Pelzom from Damphu HSS and Kinzang Dorji from Monggar HSS took third place with 79.50 percent.
Tashi Dorji from Taktse, with 77.57 percent, topped the Language and Culture Studies Certificate examination.
The second place went to Ugyen Dorji and Neechen Zangpo from Taktse with 77.29 percent. Sacha Dorji from Taktse, with 76.86 percent, came third.
Of 10,197 registered candidates from 52 Higher Secondary Schools; 36 government and 16 private schools, 9951 of them appeared for the examination.
A press release from BCSEA says the overall pass percentage is 88.99 percent which is a decrease of 0.39 percent from 2014 pass percentage of 89.38 percent.