Common forum for Gelegphu thompon election held
Phurba, Gelegphu

Jan 8, 2016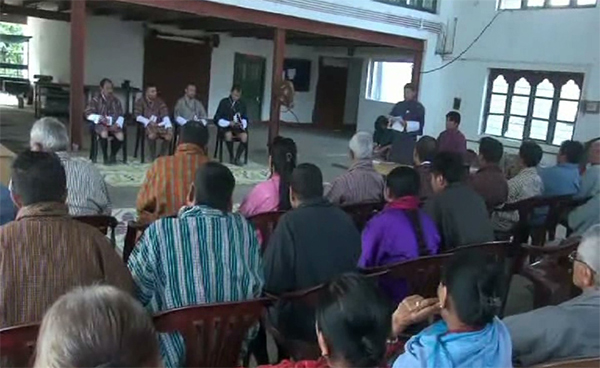 The common forum for the thrompon election in Gelegphu began today. Three candidates are standing for the post of Thrompon in Gelegphu. There are six constituencies under Gelegphu Thromde.
Harka Bahadur Gurung, 59, is a thrompon candidate from Samdrupling Constituency in Gelegphu. He has a Bachelor's Degree in English from Punjab University in India. Prior to his candidature, he served as Joint Director in the National Library. He is also the recipient of a gold medal as an order of merit for serving the country for over three decades.
As a civil servant, he served as a Dungpa under the Ministry of Homes and Cultural Affairs. He also served as a Dzongrab.
"Gelegphu, being an exemplary throm, among the southern thromdes, I foresee greater opportunities here. I therefore, resigned from the civil service and stood for the post of thrompon," said Harka Bahadur Gurung.
Another candidate is Tika Ram Kafley, 41, from Jampeling Constituency. He has Masters in Technology from Bhopal University in India. Prior to the thrompon candidature, he served as a Dzongkhag Engineer in Sarpang and later as the Chief Engineer of Gelegphu Thromde. He worked in civil service for 15 years.
"For instance, when an individual comes to thromde office with concerned documents, they face various problems while dealing with the officials. Since I am from technical background, I have an experience in such issues. I think I can serve people well."
Tshering Norbu, 34, from Tashiling Constituency is also a thrompon candidate for Gelegphu Thromde. He holds Bachelor's Degree in Computer Science from Sherubtse College.
Prior to his thrompon candidature, he served as an ICT officer for four years in Zhemgang Dzongkhag. Then, he held the post of Executive Director of KN Construction Company.
"Gelegphu, being at the central region, has a scope to be a commercial hub like Phuentshogling. Since domestic flight has also started here, there is an ample scope for tourism too."
The common forum for the thrompon was conducted in Namkharling Constituency, today. The candidates promised economic development in the region.
The final common forum will be conducted in Samdrupling Chiwog on Sunday.