PM meets Ambassador of Germany
Nov 25, 2015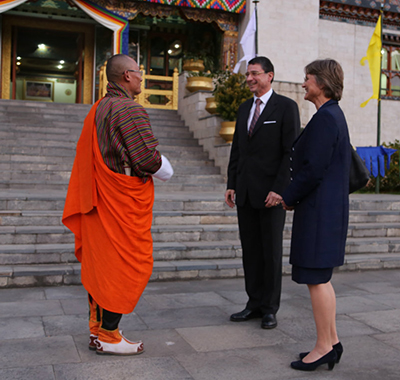 The Prime Minister, Tshering Tobgay met Germany's Ambassador, Dr. Martin Ney, this afternoon. The Ambassador's wife, Dr. Gabriele Ney, and Counselor for Political and Protocol Affairs for German Embassy in New Delhi, Carola Bruhn, had  accompanied the Ambassador.
The Ambassador said he was happy to observe many Germans visiting Bhutan. He said such interaction between the people of two nations would only strengthen the existing relations.
The two leaders also shared their concerns on global threats like poverty, climate change, terrorism and the need to come together in the face of dire occurrences.
Lyonchhen also  asked the Ambassador to convey his reassurances and appreciation to the Chancellor Angela Merkel, whom he met during the UN SDGs summit held in New York City a few weeks ago, in all her endeavors.
The Prime Minister thanked the Ambassador for Germany's assistance to Bhutan through the EU and requested Germany to explore possibilities of engagement in sectors that would accelerate Bhutan's socio-economic development.