No amount of explanation justify loss of lives: Lyonpo Norbu Wangchuk
Aug 17, 2015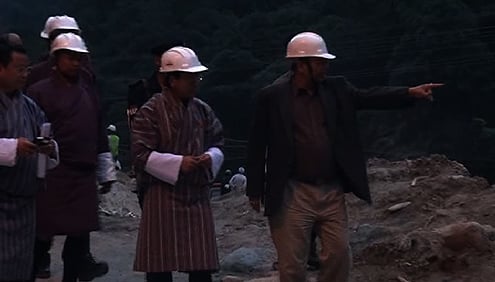 The economic affairs minister, Norbu Wangchuk visited the Mangdechhu Hydroelectric Project on Saturday to assess the situation. Five workers lost their lives after they were buried under the rubble from the landslide at the project's dam site on Friday.
The rescue team is still searching for the bodies.
"The Prime Minister has asked us to do a thorough investigation and we will be doing it. Because lives have been lost and we have important lessons learned from this incident."
Lyonpo said they will have to wait for the report to come through and see if further actions could be taken.
"We, the MHPA family, have been distraught after the five lives have been claimed. No amount of explanation would justify the loss of lives, our heart goes to the families of the five victims," said the minister.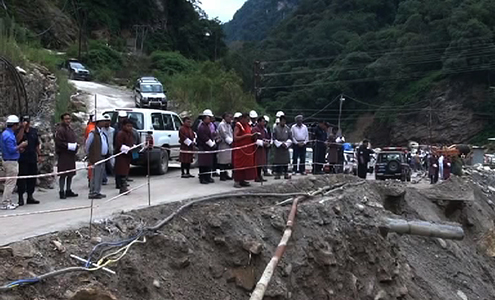 He said he would like to let the people know that MHPA has some of the best professionals, hydrologists, and geologists, engineers and managers. "We are putting in all efforts so that it is safe and no lives would come in to harm. But unfortunately accidents like this do happen."
The minister also said they will now need to put the project back on track. He said the incident will not affect on the overall project schedule. "But, we need to clear the debris, which would take 15-20 days, and resume the concreting works that was happening."
Lyonpo also said they need to stabilise the distressed hill top where slide had occurred. He said it is going to take about 20 days to put the project on track.
"It will be a continuous process. We had put in some of the best safety measures now that what we've learnt is not enough. We need to do more."
The attempt to retrieve the bodies was hampered by seeping water.
According to the officials from MHPA, about 700,000 litres of water is accumulated at the dam pit, which they expect would take about several hours to clear.
A thousand butter lamps were also lit at Trongsa Dzong for the victims.