China's Ambassador calls on PM
Jul 17, 2015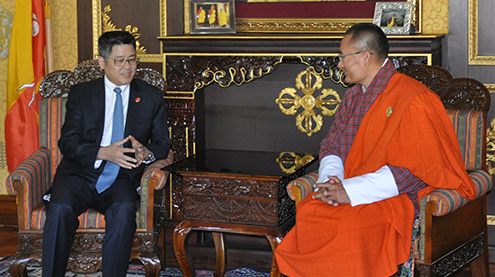 People's Republic of China's Ambassador to India, Le Yucheng called on the Prime Minister, Tshering Tobgay at the Gyalyong Tshogkhang, this morning.
Lyonchhen welcomed the Ambassador on his first visit to Bhutan and conveyed that such high level visits provide an opportunity for Bhutan and China to exchange views on issues of mutual interest.
The Ambassador expressed his happiness on the cordial relations enjoyed by the two countries. He further applauded Bhutan's development paradigm of Gross National Happiness.
The leaders discussed possible collaboration on tourism with emphasis on promoting people-to-people contact, student exchanges and trade among others.