PM meets Indian Commerce Secretary and delegation
May 26, 2015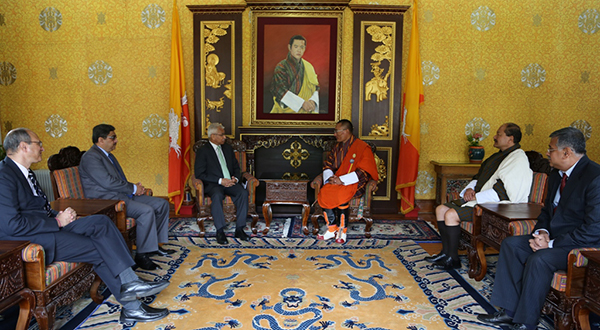 Permanent Secretary of Department of Commerce to the Government of India, Rajeev Kher called on the Prime Minister, Tshering Tobgay, today.
Welcoming the delegation, Lyonchhen expressed that regular exchange of high-level visits and constant interaction between the two countries has always been the hallmark of Bhutan-India relations.
Lyonchhen accredited the country's socio-economic growth particularly in infrastructure development, hydropower production andtrade to India's continued support.
Rajeev Kher conveyed that India accorded Bhutan as a distinguished and respectable neighbor and said that the friendship between the two countries transcended beyond boundaries.
He said India could draw many lessons from Bhutan because of its sustainable development framework. Mr. Kher also expressed interests in developing IT services and promoting the tourism industry.
Bhutan conducts its trade with India under the Agreement on Trade, Commerce and Transit signed between the two countries in July 2006.