Stringent traffic monitoring continues
Apr 24, 2015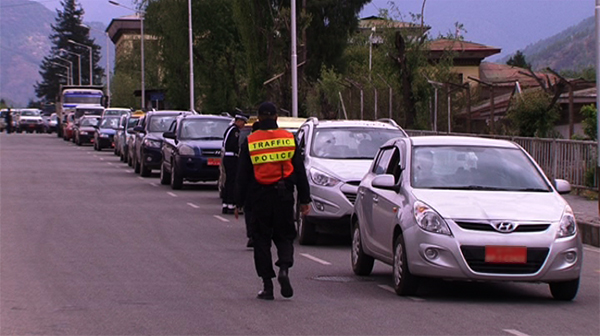 The traffic police deputed about 18 teams at different locations in Thimphu alone to ensure no traffic rules were violated, today. Every Friday is observed as zero tolerance day to traffic rule violations.
Motorists caught without documents and with broken number plates were penalised.
The traffic police began stringent monitoring, last Friday.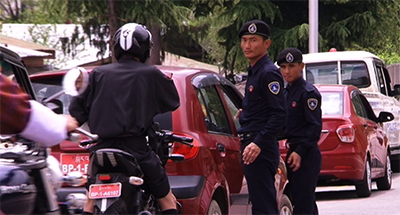 During its first day, the traffic police penalised over 600 motorists, across the country for violating traffic rules. Of the total, 200 penalised were in Thimphu.
"Not all the drivers are responsible," said the Chief of Police, Brigadier, Kipchu Namgyel. He said the initiative is more to create awareness and make motorists responsible than punish them.
The decrease of road accidents from over a 1,000 in 2013 to 800 in 2014 has been attributed to the strict traffic monitoring.
The police also said the initiative is not because of increasing traffic offenders but to further reduce them.
The Royal Bhutan Police also plans identify other days to monitor traffic depending on how successful the initiative proves to be.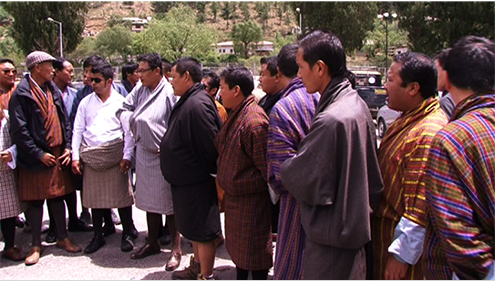 On the other hand, taxi drivers, who feel the penalty imposed by the traffic police is unreasonable, gathered at Changlimithang in Thimphu, today. Over a 100 of them have already been penalised just today, according to them.
Some exasperated taxi drivers told BBS that they were pulled over at the highway and asked to pay up. Some said they were penalised for stopping by the highway to pick up passengers and it is no fault of theirs as there are no allocated stops until they reach Babesa.
The traffic officials said fines were imposed only to those who had violated the rules for having not parked their taxis in proper areas or to those who stopped abruptly, whenever they saw passengers.
The Road Safety and Transport Authority said they are currently in dialogue with the thromde office to identify pick and drop taxi stands. RSTA officials also said the taxi drivers are regularly briefed on proper parking.
Thimphu Thromde had not been able to identify and build proper pick and drop areas for the taxis due to budget constraints. The thromde officials said they now have budget and taxi stands will be developed along the highway by this year.