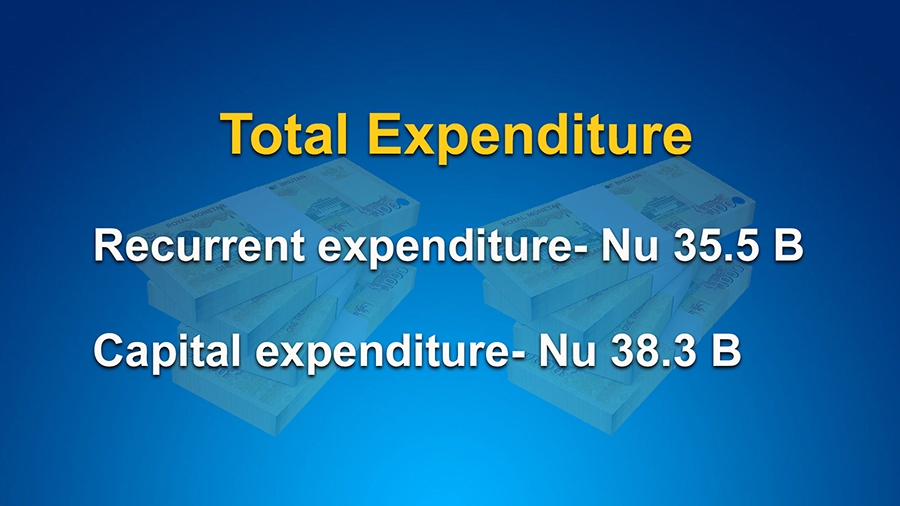 With the current fiscal year coming to an end by next month, more than half of the total capital budget remains underutilised. Capital expenditure is the money spent by the government on the development of physical assets. In Bhutan, the capital budget is met from balance domestic revenue after meeting the recurrent budget, grants and loans.
The Parliament last year approved more than Nu 35bn for the recurrent expenditure and more than Nu 38bn for the capital expenditure for this financial year. However, the country has spent only about Nu 18bn as of April this year.
According to Finance Minister Namgay Tshering, the budget utilization will shoot up once the ministry includes the outstanding advances. "If you take into consideration the outstanding advances that are paid by the budgetary agencies, probably by now, the budget utilization, the rate has to touch at least 70 per cent on average across all sectors."
While the lockdown at the beginning of this year has had an impact on the government's ability to utilize the capital budget, the ministry said the budget utilization peaks when the fiscal year closing nears.
The minister said a significant amount of the budget was spent on the education sector. Last year when the national budget for the fiscal year 2021-2022 was presented to the parliament, education and health under the social sector was allocated the highest budget constituting 30 per cent of the total budget.
"We have spent a significant amount of budget on the education sector, followed by road sector, and then we have agriculture and forestry sector and obviously health," Lyonpo added.
The underutilisation of funds would have implications on the effective and optimal use of borrowed funds.
The ministry is currently working on next financial year's budget allocation. The minister said the allocation is expected to remain at the same level or a little less as compared to the current fiscal year.
Samten Dolkar
Edited by Sonam