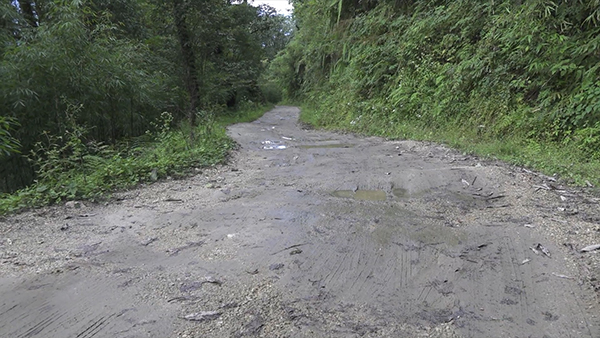 The department of roads maintained the 45-kilometre long Kurtoed Gewog centre road in Lhuentse about eight months ago. But the road is now filled with potholes. The people in Kurtoed want the department to do the work once again.  
The stretch of the gewog centre road between Zhamling and Dungkar is said to be getting worse especially in summer. The road was repaired in February this year. Since the stretch is marshy, the blacktopping was not done here.
Kuenga La, a resident said, "The road stretches between Zhamling and Kurtoed is bad. It is a problem. We have only a handful of vehicles in Kurtoed and they also drastically increase the fare due to the bad road."
Sonam Chophel another resident added, "If the government has an adequate budget, major maintenance work needs to be carried out. Minor maintenance does not benefit us and it gets damaged within one year. Officials were saying they would repair the road. And we also have many sacred places located in the gewog but people don't come because of the road."
"The department of roads has been maintaining the road but it is not useful. So, we would be grateful if major maintenance work is done," said Kuenzang Penjor, Chagdzom-Chhusa Tshogpa.
Unlike other gewog roads, the department looks after this road. And it all boils down to lack of budget.
Kinzang Dorji, a Chief Engineer with Department of Road in Lingmithang said, "We have already submitted a proposal to the ministry to allocate additional budget to do the resurfacing work of the Kurtoed Gewog centre road. So we are hopeful to get the budget in the next financial year."
The laborers are clearing the bushes and drains along the roads. The winter is coming, a time for local tourists to visit sacred places like Jigme Namgyal Nagtshang, the ancestral home of Wangchuck Dynasty and Rinchen Bumpa. And the road should be good.
Sonam Tshering, Lhuentse 
Edited by Sangay Chezom