Blacktopping of the Korphu GC road contract terminated for poor progress
Pema Samdrup, Zhemgang

Jun 14, 2019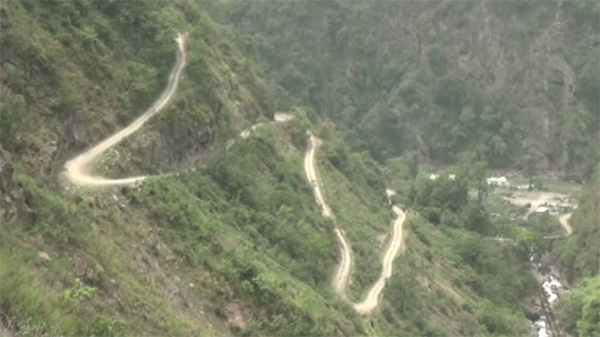 The Department of Roads (DoR) Regional Office in Trongsa has terminated the contract of blacktopping of the Korphu Gewog Centre (GC) road, after the contractor failed to meet the deadline, despite reminding several times. It has been more than three years now, but the works still remain incomplete without any progress.
The blacktopping of 19.5 kilometres GC road, which starts from the Trongsa-Zhemgang highway at Wangdigang, began in 2016. It was supposed to complete by December 2018. But only about 300-metre of the road has been blacktopped so far.
The DoR's chief engineer in Trongsa, Ugyen Dorji says it will now take some time to resume the blacktopping works as they have to re-tender the package again.
For the people of Korphu Gewog, their dream to travel on smooth blacktopped GC road has now been prolonged further. With the slow work progress, they said the contract should have been terminated long time ago.
Some of the Chiwog Tshogpas alleged that despite poor work progress, the DoR failed to take timely action.
"It has been three years, forget the blacktopping works even the base course is not carried out properly," Thinley Dorji, the Nabi Tshogpa, said.
"We are not aware of the actual problem, I think the dzongkhag, gewog or central government failed to investigate on the issue," Lhadon, Nimshong Tshogpa, said.
"This issue was reported to the Regional DoR in Trongsa for immediate action and to speed the works before the onset of monsoon. But we did not see any work progress," Yeshi Needup, the Korphu Mangmi, said.
BBS could not contact the contractor for his comments.
The issue was also extensively discussed during Dzongkhag Tshogdu meetings.
There are about 200 households in Korphu.