HH the Je Khenpo consecrated a Jarung Khashor chorten in Tsirang
Namgay Wangchuk, Tsirang

Jun 12, 2019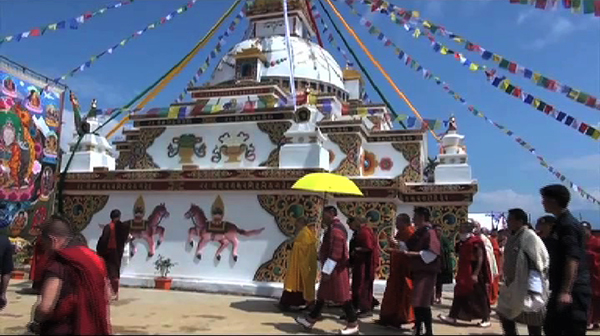 His Holiness the Je Khenpo consecrated a Jarung Khashor chorten in Damphu town today. It took two years to complete the works. 
Tsirang Dzongkhag spent nearly Nu 5 M. The chorten was constructed for the well being of all sentient beings.
Jarung Khashor stupa, also known as Boudhanath Stupa is first built in Nepal by a poor poultry rearing woman, Jadzima with the help of her four sons. A myth says that she requested the king to grant her a piece of land to build a stupa. Normally, the king wouldn't give such permission, but somehow on that day, the king said, "Okay, it can be done." This just slipped out of his mouth.
"Okay, it can be done" translates to 'Jarung' and 'slipped out of his mouth' translates to 'Khashor' in the Tibetan language. It is also known as a wish-fulfilling stupa. After the death of their mother, the four sons completed the stupa and gathered in front of it and prayed. It was said that all the buddhas and bodhisattvas absorbed into the stupa to grant their wishes.
In the next life, the oldest brother became the Dharma king Songtsen Gampo in Tibet, the second brother became a minister in Tibet [Padma Gungtsen]. The third brother became an abbot [Shantarakshita], and the fourth brother was reborn as Padmasambhava as per their wishes.
It is believed that the wishes of anybody who makes prayers to the stupa are fulfilled.
His Holiness also consecrated a Dre Mey Nam Nyee chorten in the campus of Professional Development Centre, Royal Audit Authority in Tsirang.