NC not satisfied with government's responses on 12th Plan's recommendations
Phub Gyem & Passang Dorji

May 25, 2019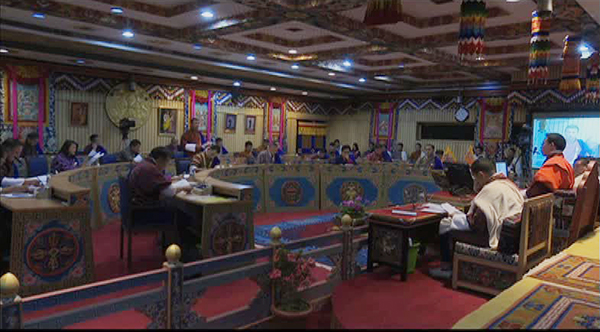 The National Council is not happy with the government's responses to the recommendations the house made during the last session. The House of Review made 22 recommendations on the 12th Five Year Plan. Labelling the responses as unsatisfactory, members of the Council says in order to get clear answers they need to re-deliberate on the recommendations or question the relevant ministers during question-answer sessions.
The members are particularly not satisfied with the government's response to creating enabling policies and act regarding tourism and providing free nutritious lunch to all students in identified schools.
They also did not get concrete answers on providing compensation to those affected by wildlife and residing in the park areas. The NC is also not satisfied with the response on ensuring land substitution or compensation to those affected by the government's developmental activities and building capacity of Local Government.
"We have deliberated the issues intensively here and made these recommendations. After which, only the most valuable and important recommendations were submitted. But when we look at the responses today, it seems that government is not happy with the recommendations, as many of the responses are short and unsatisfactory," Haa MP Ugyen Namgay said.
"The earlier recommendations were made after consulting with the people of our respective districts.  Also, I have informed the people about the recommendations. But upon the completion of this session, if I give them these brief responses, I will not be happy neither will my people," Dagana MP Surjaman Thapa said.
"I feel we should now question the concerned ministers directly about it," NC's Deputy Chairperson Jigme Wangchuk said.
The house directed the members to decide on whether to ask the relevant ministers during question hour sessions or re-deliberate the recommendations.