Fourth Pay Commission formed
Jan 12, 2019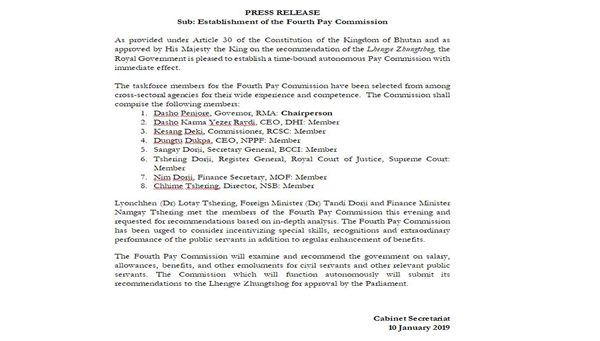 The government is pleased to establish a time-bound autonomous Pay Commission with immediate effect, Cabinet Secretariat said in a news release issued last evening. 
The establishment of the pay commission, the release states, is in accordance with Article 30 of the Constitution and as approved by His Majesty The King on the recommendation of the Lhengye Zhungtshog.
The task force members for the Fourth Pay Commission have been selected from among cross-sectoral agencies for their wide experience and competence.
The Governor of the Royal Monetary Authority (RMA) Dasho Penjore is the Chairperson.
The members are Dasho Karma Yezer Raydi, the CEO of Druk Holdings and Investments (DHI), Kesang Deki, the Commissioner of the Royal Civil Service Commission (RCSC), Dungtu Dukpa, the CEO of the National Provident and Pension Fund (NPPF), Sangay Dorji, the Secretary General of the Bhutan Chamber of Commerce and Industry (BCCI), Tshering Dorji, the Register General with the Royal Court of Justice, Supreme Court, Nim Dorji, Finance Secretary and Chhime Tshering, the Director of the National Statistics Bureau (NSB).
The news release from the Cabinet Secretariat says Lyonchhen Dr Lotay Tshering, Foreign Minister Dr Tandi Dorji and Finance Minister Namgay Tshering met with the members of the Fourth Pay Commission last evening and requested for recommendations based on in-depth analysis.
The Fourth Pay Commission has been urged to consider incentives for special skills, recognition and extraordinary performance of the public servants in addition to regular enhancement of benefits.
The commission will examine and recommend the government on salary, allowances, benefits, and other emoluments for civil servants and other relevant public servants.
The commission, which will function autonomously, will submit its recommendations to the Lhengye Zhungtshog for approval by the Parliament.