Maentsang farmers in Bartsham earn good money from walnuts
Tshering Zam, Trashigang

Sep 14, 2018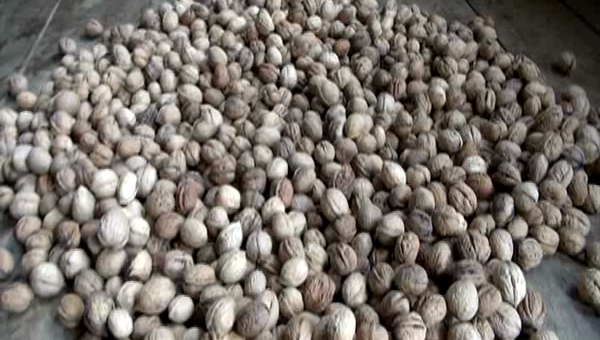 For the people of Maentsang village of Bartsham Gewog in Trashigang, walnut has now become an alternate source of income. Every household in the village owns at least a few walnut trees.
And it is the harvest time right now.
58-year-old Norbu and his wife are busy picking walnuts. They own six fruit bearing walnut trees and another six, which are yet to bear fruits.
"We cultivate potato, paddy, and maize too. We later started growing cardamom and walnut. The yield is good every year, so we have been focusing on it," Norbu said.
"Growing walnut is much easier as it does not entail hard work like other crops."
Farmers also do not have to worry about wild animals attacking their walnut trees.
Walnuts have been a  good source of cash income for farmers like Norbu.
"Those who grew walnut trees years ago have been earning between Nu 30 to 40,000. For me, I earn around Nu 14,000 to Nu 15,000 in a year. This year I am expecting to earn a few thousands more."
"I earned about Nu 27,000 last year. I am expecting to earn Nu 30,000 this year," Tashi Tenzin, another farmer, said.
Some 80 pieces of walnuts fetch Nu 240.