Parking congestion at Gelephu bus terminal causes problems
Karma Wangdi, Gelegphu

Sep 13, 2018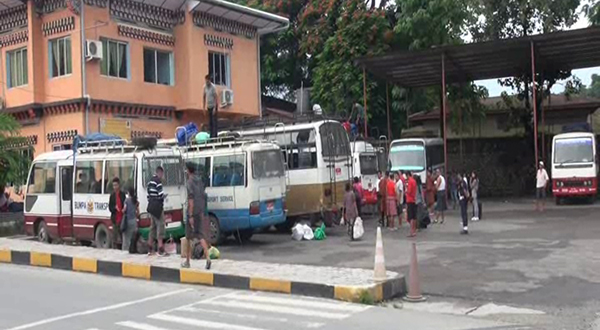 The Road Safety and Transport Authority (RSTA) office in Gelegphu stopped allowing taxis and other vehicles to enter the bus terminal to pick or drop passengers.
It's been about a month now since the RTSA did that to ease congestion in the terminal area.
But the move has not gone down well with the public.
The issue was also raised at the recent Gelegphu Thromde Tshogde.
"The people have to park outside and carry their bags and everything till the terminal, which is inconvenient," Karchung, the Tshogpa of the Samdrupling Demkhong, said.
"It's troublesome for the passengers," the Sonam Gatshel Demkhong Tshogpa said.
The Thromde Tshogde suggested the Thromde management to take up the issue with the RSTA.
Gelegphu Thrompon Tikaram Kafley said the Thromde has already allotted a bus parking space to RSTA in the AWP area.
"They will soon come up with some structures in the area given to them. So, the problem should be solved soon," Tikaram Kafley said.
The present bus terminal is located in the heart of Gelegphu town. Every day, more than eight buses leave the terminal for various part of the country.