79,515 people vote at postal ballot facilitation booths
Choni Dema, Thimphu

Sep 10, 2018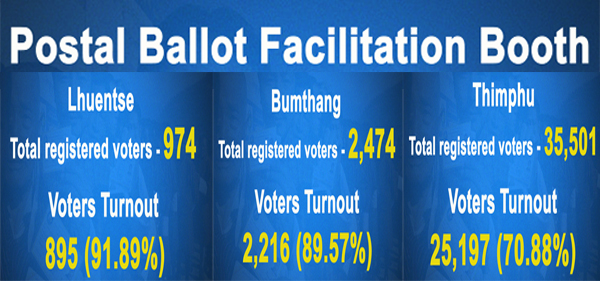 A total of 79,515 people voted through postal ballot facilitation booths set up across the country for the Primary Round of the 2018 National Assembly Elections.
Lhuentse dzongkhag saw the highest voter turnout at 91.89 per cent. Of the total 947 registered postal voters, 895 turned up to cast their votes.
Thimphu saw the lowest voter turnout at 70.88 per cent. 25,197 voters out of 35,553 came to exercise their adult franchise.
The overall voter turnout was 77.55 per cent.
Of the total 438,663 registered voters, 102,531 postal voters opted for voting through facilitation booths.
A total of 65 facilitation booths remained opened for three days from September 7 till 9.
The election commission also operated mobile facilitation booths for people with special needs and prisoners.