Samtse sees high women voter turnout in facilitation booths
Damcho Zam, Samtse

Sep 8, 2018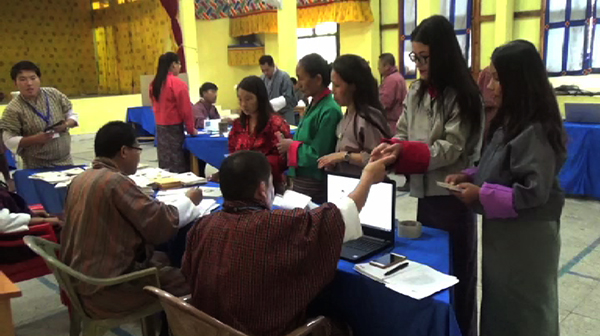 The postal ballot facilitation booths in Samtse saw a large number of women voters on the first day. Out of the total 1,189 voters, 734 women came to vote through the facilitation booths yesterday.  
The women voters say with such the facility they are happy that they could personally come to vote in the booths.
"I feel that the facilitation booth service is better than voting through a conventional postal ballot service. While voting through the conventional way, I sometimes end up disclosing whom I voted for to my family members. But voting through the booth ensures my vote is secret, "Rinzin Wangmo, a voter, said.
"I am from Lhuentse and it is difficult for me to go there to vote. The facilitation booths are not only convenient but also I do not have to depend on my husband and children to fill the forms like in conventional postal ballot service, " Cheki, another voter, said.
The Dzongkhag has four facilitation booths with 4,776 registered postal voters.  The booths remain open from 9 am to 7 pm until Sunday (September 10).
There are 47,361 registered voters in Samtse, which is an increase of over 5,500 voters from 2013.