Parties pledge to improve healthcare sector
Phub Gyem & Sonam Pem, Thimphu

Sep 5, 2018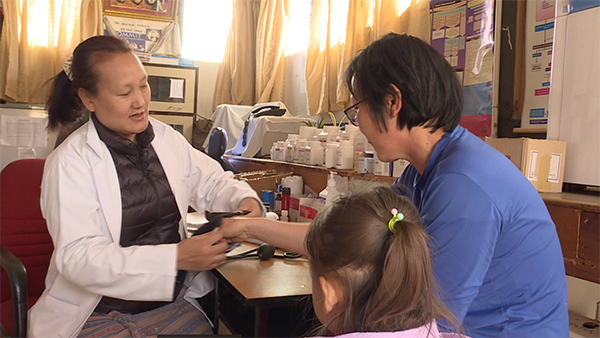 If the party pledges are anything to go by, Bhutan's healthcare sector is likely to undergo a major transformation. 
From equipping district hospitals and BHUs with adequate specialists and doctors to establishing super specialist hospitals and providing specialists services at the gewog level, all four political parties promise to leave no stone unturned in taking the country's healthcare system to the next level.
Druk Nyamrup Tshogpa (DNT), Druk Phuensum Tshogpa (DPT) and People's Democratic Party (PDP) pledge to depute enough specialists in the district hospitals in the next five year. They also want to equip BHUs with adequate doctors.
The BKP intends to post two to three doctors in the district hospitals.
DNT and PDP pledge to make the national referral hospital a super specialist hospital. This would mean there will be doctors specialized in treating certain diseases, including organ transplant and heart surgeries, which are mostly referred to hospitals outside the country at the moment.
Today, the health sector is short of 2,201 medical professionals, which includes 219 doctors and specialists. The health sector is also in need of 1,249 more nurses and 383 technicians.
"DNT can hire doctors from abroad and solve the doctor shortage. Our president studied outside and has a good relationship with not just the doctors but also with the institutes, which will make it easier for the DNT to hire doctors from outside," DNT's Vice President Tandi said.
"So, it's doable. Of course, it's not possible to bring a total solution and have all the specialists at once. We will have to do it phase wise," he added.
PDP's Vice President Dorji Choden says her party will capitalize on the exchange programmes with the neighbouring countries to solve the shortage of specialists.
"We have a good relationship with Bangkok, Bangladesh, India and Sri Lanka. So, we should be able to start by strengthening our relationship with these countries," Dorji Choden said.
The DPT promises to establish a pharmaceutical manufacturing company if it comes to power.
"For JDWNRH alone, the government spends millions and billions on the purchase of paracetamol every year. If we are to focus on making a self-reliant country, we should work towards producing the basics within the country," Lily Wangchuk, the Vice President of DPT, said.
"So, by the second year, if DPT comes to power, we will come up with that project in Pasakha. It will be a little costly but it is a good investment. We will be able to produce basic needs within and save millions that we currently spend importing. Initially, we will have to hire expertise from outside but gradually train our own people," she said.
BKP is concerned about the country's declining fertility rate and pledges to provide a one-time gift of Nu 5,000 for the birth of every second child to encourage people to have more children.
"Bhutan's population growth rate is at 1.3 %, according to the Population and Housing Census 2017. The Nu 5000 per second child is an incentive to encourage a larger family size compared to the current size," Sonam Tobgay, Vice President of BKP, said.
In the 12th Five Year Plan, the health sector has been allocated a budget of more than Nu 5.5bn.