Laya road clearing works to complete ahead of 3rd highland festival
Tshering Wangchuk, Gasa

Sep 3, 2018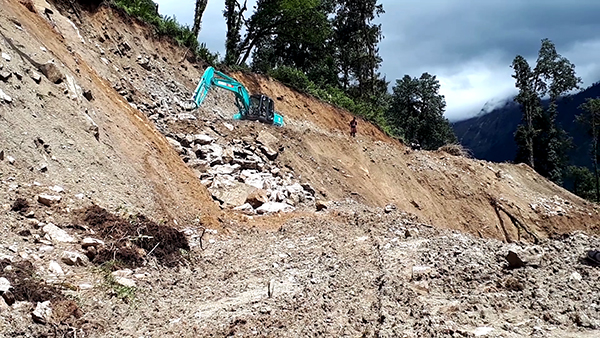 Works to clear the blocks on the Laya Gewog Centre (GC) road are being speeded up as the Third Royal Highland Festival, scheduled in October, draws closer.
The 23-kilometre Laya GC road has been blocked for over two months now.
The road leads up to Koina from where it's a day's walk to Laya. At present, due to the blocks, people have to walk for two days from Gasa.
The Dzongkhag Engineer Choki said machinery and workers have been deployed at various locations to clear the blocks.
"There are many blocks along the way, so the Dzongkhag engineering section and the Dzongkhag administration have agreed to clear all blocks till Koina by end of September," the District Engineer said.
The Third Royal Highland Festival will take place on 23rd and 24th October. The Dzongkhag Engineer, Choki, said the works would be complete by end of this month, which is almost a month ahead of the festival.
The clearing works began in June, but heavy rainfall and difficult terrain posed numerous hindrances. Also, budget constraints led to a temporary halt. The works resumed last month.
The Dzongkhag Engineer added the roadblocks do not affect the Layaps much since most of them do not move out of their villages in summer. They migrate to Wangdue Phodrang and Punakha only in winter.
Roadblocks are common on the Laya Gewog Centre road. In summer, the blocks are caused by landslides and snow is the culprit in winter.
Gasa Dzongkhag spends over Nu 200,000 annually for regular maintenance of the road.