Chief Advisor calls for coherence in member states' actions at BIMSTEC Summit
Kinley Dem, Kathmandu

Aug 31, 2018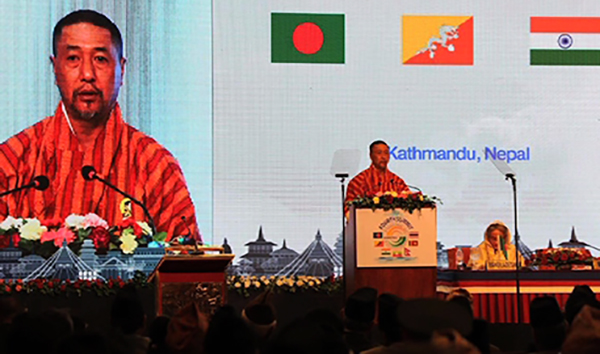 The Fourth Bay of Bengal Initiative for Multi-Sectoral Technical and Economic Cooperation or BIMSTEC Summit ended today in Kathmandu, Nepal.
The Bhutanese delegation to the summit was led by the Chief Advisor of the Interim Government, Chief Justice Dasho Tshering Wangchuk.
The summit this year was held on the theme, "Towards a Peaceful, Prosperous and Sustainable Bay of Bengal Region".
Speaking at the inaugural of the summit yesterday, Chief Justice Dasho Tshering Wangchuk said the region's shared geography, history, culture and values provide a compelling setting to work together for common good.
"During the last two decades, our collective efforts have led to positive outcomes in political, economic, social and cultural spheres. While all of us agree that we can and must do more, we also recognize that there is a need for more coherence in our actions," he added.
The Chief Advisor also shared a few priority areas for regional cooperation, such as the need to promote trade in the region, regional digital connectivity, address security threats through dialogue and cooperation and the need of foundation for regional understanding and collaboration, for the prosperity and peace in the region.
The Chief Advisor also reaffirmed Bhutan's commitment to preservation and protection of the environment.
The prime minister of the host country Nepal stressed that BIMSTEC member states should accord top priority to take the people out from the clutches of poverty and that no one should be left behind while accelerating economic development.
"The dream of prosperity falters if we fail to defeat the darkness of poverty," he said.
He also said the region is bearing the brunt of nature's fury and have been adversely impacted by climate change.
"Calamities such as landslides and floods have caused colossal loss. Ironically, we are being penalized for the mistakes we never made."
He also shared about giving importance to youth and children for a prosperous future and remaining united in defeating terrorism in all its forms and manifestations.
The heads of the government of all seven BIMSTEC member states addressed the summit.
On the sidelines of the summit, the Chief Advisor also met with the leaders of Bangladesh, India and Myanmar.
Although the Interim Government is mandated to carry out the routine functions of the government only and not entitled to take policy decisions or enter into any agreement with foreign governments or organizations, the Chief Advisor is represented the country to avoid further delay of the summit.
Any decision and outcome documents of the summit will be subject to endorsement by the newly elected government.