Bhutan's first reinsurance company named Asia's best
Sherub Dorji, Thimphu

Aug 29, 2018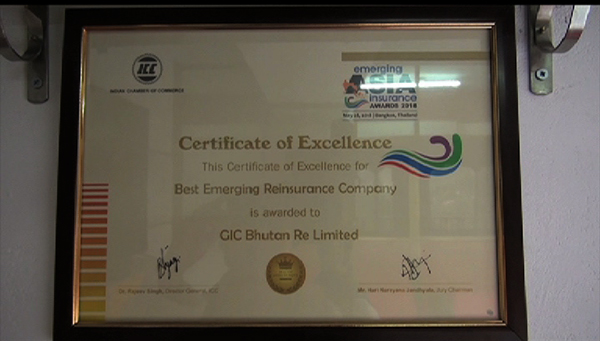 The GIC-Bhutan Reinsurance Company Limited, the country's first reinsurance company, was named as Asia's best emerging reinsurance company in May.
It received the award at the Emerging Asia Insurance Award and Conclave organized by the Indian Chamber of Commerce (ICC).
"Reinsurance, in simple terms, means an insurance of insurance," explains Vikrant Parate, the CEO of GIC-Bhutan Reinsurance Company Limited.
In other words, reinsurance companies insure the risks of other insurance companies.
The practice of reinsurance gives insurance companies protection against risk. It enables an insurer to buy insurance from another insurer to reinsure the risks they assume.  
"We have two insurance companies, RICBL and BIL. When they insure large projects like Chhukha or Tala Hydroelectric Power Projects, they cannot insure wholly. So, these companies transfer some portion of the risk they covered to another insurance company," Vikrant Parate explained.
The GIC-Bhutan Reinsurance Company Limited is a foreign direct investment (FDI) project. It is a joint venture operation of the General Insurance Corporation (GIC) of India and two Bhutanese promoters.
The company celebrates its fifth anniversary next month.
In just five years of its establishment, the company has been able to spread its wings in over 30 countries.
Today, over 12 per cent of the company's local business comes from the two insurance companies, the Royal Insurance Corporation of Bhutan (RICBL) and the Bhutan Insurance Limited (BIL).
However, with RICBL and BIL sharing financial risk with other international reinsurance companies, the GIC-Bhutan Reinsurance says it has not much scope for business in Bhutan.
The company earned more than 465 million Indian rupees last year from the gross premiums collected from India and around Nu 112 million worth of US dollar.