Notification calling off Thimphu Dromche, Tshechu is fake:TCB
Choni Dema, Thimphu

Aug 26, 2018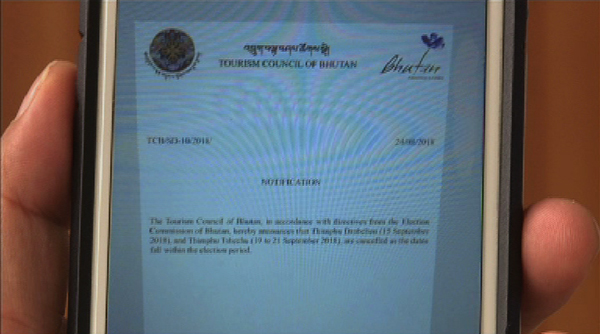 The Tourism Council of Bhutan (TCB) says it is trying to trace the person or people behind the fake announcement calling off Thimphu Dromche and Tshechu.
TCB's letterhead was used to circulate the false notification.
"Tourism Council of Bhutan, in accordance with directives from the Election Commission of Bhutan, hereby announces that Thimphu Drubchen and Thimphu Tshechu are cancelled as the dates fall within the election period," stated the fake announcement.
TCB says the fake letter was circulated on various social media platforms yesterday morning.
"People in the tourism industry were taken aback and have been calling us to confirm," Damcho Rinzin, TCB's Media Spokesperson, said.
"We will look into a proper way of investigating from our side. I think we have to inform the police about this. We will take up the matter with relevant agencies," he added.
In a similar case, a man was arrested about two months ago for illegally using the National Commission for Women and Children's (NCWC) letterhead and forging documents to avail US visas.