India wins SAFF U-15 women's championship
Passang Dorji, Thimphu

Aug 20, 2018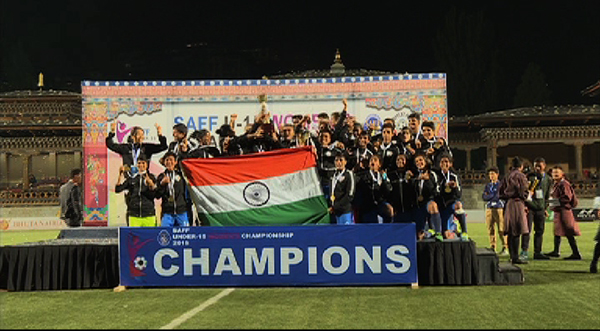 India is the new champion of the SAFF Under-15 Women's Championship 2018. In the finals on Saturday, they defeated the defending champions, Bangladesh, by one goal to nil. Meanwhile, Bhutan secured a penalty shootout win over Nepal to confirm the third position.
For the Indian team, the intention was clear. They were there to change the course of fate they suffered at the hands of Bangladesh in the championship's final last year. They started the game strong with Avika Singh almost opening the scoreline with a free kick.
The two sides tried their best to open their accounts but the defensive lines stood tall and well-built. It was a goalless draw at the break.
The only goal of the game came in the 66th minute. A quick short corner and the piercing cross from Lynda Kom were well converted by Sunita Munda.
In a desperate attempt to equalize and keep their hopes alive, the Bangladeshi tigress gave all they had but failed to capitalize on the chances.
The third-place match was played between the host nation Bhutan and Nepal before the finals.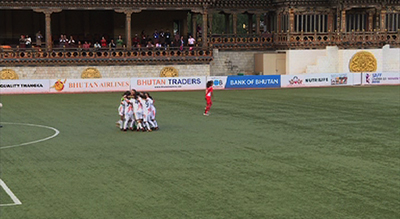 After failing to reach the finals, both the teams looked determined to win the third place of the championship. And it was Bhutan who had an early lead after scoring in the 3rd minute.
The Nepalese girls, however, started the second half strong as they netted in two back to back goals. The lead was short-lived as the dragon girls levelled the score in the 66th minute.
Following a blunder by the Nepalese goalkeeper, Yeshi Bidha scored her third goal of the tournament in style.
After the 90 minutes ended all square, the contest went to the dreaded penalty shootout. Making two crucial saves the Bhutanese skipper, Kinzang Dema won the penalty shootout for Bhutan.
Trophies and Individual medals were awarded to the winners, runners-up and the first runners-up.
The South Asian Football Federation's Under-15 Women's Championship this year saw six countries taking part.